Get into the habit of eating a morning meal with these simple breakfasts, designed to whet the appetite of even the most habitual breakfast-skipper.
Not hungry first thing in the morning? Pushed for time? Trying to lose weight? These calorie-counted treats will tempt you to rediscover the pleasure of breakfast.
From energy-boosting "apple pie" porridge and protein-packed scrambled eggs to a nutrient-rich green smoothie and granola bars, there's something for everyone.
"Creating the habit of eating in the morning is something you can build towards," says dietitian Alison Hornby. "Start off with a light bite, such as a piece of fruit or low-fat yoghurt.
"After a while, your morning appetite will naturally increase, and you'll probably find you eat less throughout the day, including snacks."
Research suggests people who eat breakfast are slimmer because they tend to eat less during the day – particularly fewer high-calorie snacks.
If you're short on time in the morning, think about ways to keep your breakfast choice simple. You could also try waking up 10 minutes earlier or getting other chores out of the way ahead of time.
Energy-boosting breakfasts
'Apple pie' porridge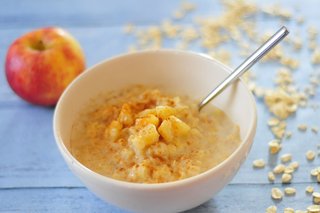 Serves: 1 adult
Preparation time: 10 minutes
Cooking time: 5 minutes
Calories per portion: 315kcal (1,318kJ)
Ingredients
50g porridge oats
200ml semi-skimmed milk
1 medium dessert apple, diced
Pinch of cinnamon
This is a warm, comforting porridge spiced up with the classic flavours of a homemade apple pie.
Throw all the ingredients into a saucepan. Heat and stir until boiling, then lower the heat and simmer gently for 5 minutes, stirring often.
Spoon the porridge into a serving bowl and add a sprinkle of cinnamon.
Or you could try
Muesli, fresh fruit and low-fat yoghurt: fruit added to your muesli counts towards your 5 A Day. Low-fat yoghurt provides calcium and protein, but watch out for the sugar content. Go for muesli with no added sugar.
Porridge with mashed banana and dried blueberries: put oats and a handful of dried blueberries in a bowl, and add semi-skimmed milk. Heat in the microwave for 3 to 4 minutes, stirring every so often. When cooked, stir in the mashed banana, which is a healthier substitute for sugar or honey. For the best results, use a very ripe banana.
Baked beans on wholemeal toast: not only are they naturally low in fat, but baked beans are also packed with fibre and protein, making them a vegetarian source of protein. Look out for reduced-salt and reduced-sugar ranges.
Breakfast cereals: cereals can be high in sugar, with some comprising up to 37% of the white stuff. Try switching to lower-sugar cereals or those with no added sugar, such as plain wholewheat cereal biscuits, plain shredded wholegrain pillows or plain porridge.
Find out more about reducing your sugar intake at breakfast.
Protein-packed breakfasts
Scrambled eggs (with optional wholemeal toast)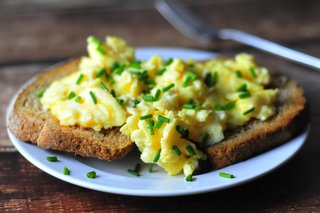 Serves: 1 adult
Preparation time: 5 minutes
Cooking time: 5 minutes
Calories per portion: scrambled eggs 247kcal (1,033kJ), 2 slices of wholemeal toast 190kcal (795kJ)
Ingredients
2 eggs
4 tbsp semi-skimmed milk
2 slices wholemeal toast
2 tsp low-fat spread
Pinch of black pepper
Optional sprinkling of chopped chives (calories nominal)
The secret to perfect scrambled eggs is to fold them gently in the pan to get curds, rather than a dried, quivering mess.
Lightly mix the eggs and milk in a bowl. Melt the low-fat spread in a pan and add the egg mixture. Cook over a medium-high heat, stirring slowly and gently until they're just set, with big, soft curds.
Serve the eggs on the slices of toast, sprinkled with chives and some pepper.
Tips
to make green eggs, scramble your eggs with a handful (40g) of spinach (30kcal/125kJ)
Or you could try
Low-fat Greek yoghurt topped with fruit and nuts: try strawberries and mixed nuts.
Smoked salmon and low-fat cream-cheese bagel: halve the bagel and toast it. Spread low-fat cream cheese on one side and top with salmon. Add a squeeze of lemon and a pinch of black pepper.
Lighter bites
Green smoothie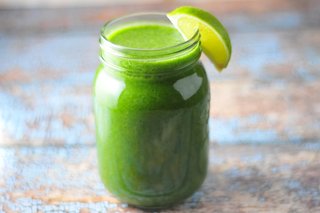 Serves: 1 adult
Preparation time: 5 minutes
Cooking time: none
Calories per portion: 140kcal (586kJ)
Ingredients
40g tinned mango slices (discard liquid)
40g tinned peach slices (discard liquid)
40g frozen spinach
1 medium banana
200ml water (or as required)
Smoothies are a great introduction to breakfast if you don't normally have much of an appetite at the crack of dawn. They're also a good portable option for your morning commute.
Compared with some hardcore recipes, our green smoothie is quite sweet and fruity while still giving a healthy serving of greens.
Blend all the ingredients together until smooth. Add more water to achieve the desired consistency.
Tips
you could use frozen or fresh fruit instead of tinned
limit the amount of fruit juice and smoothies you drink to a combined total of 150ml a day
Or you could try
Banana and oats smoothie: transform your speckled bananas into an energy-boosting liquid breakfast. Blend 1 ripe banana with 2 tablespoons of oats and 100ml of semi-skimmed milk until smooth. This can also be made using a soya drink. Limit the amount of fruit juice and smoothies you drink to a combined total of 150ml a day.
Very berry smoothie: take 1 banana, 140g of frozen summer berries or forest fruits, 40g of low-fat natural yoghurt and about 100ml of apple juice. Blend the banana and berries until smooth. With the blades whirring, pour in apple juice to achieve the consistency you like. Limit the amount of fruit juice and smoothies you drink to a combined total of 150ml a day.
Pimp your toast: tired of your usual toppings? Toast doesn't have to be boring. Brighten up your bread with these healthier combos: mashed avocado and hardboiled egg, marmite and grilled 30%-less-fat mature cheese, or banana slices and peanut butter.
5-minute breakfasts
'Grab and go' breakfast bar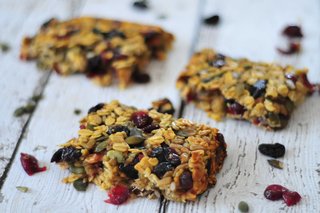 Makes: 6 bars
Preparation time: 15 minutes
Cooking time: 25 minutes
Calories per portion (1 bar): 300kcal (1,255kJ)
Ingredients
150g jumbo oats
2 very ripe medium bananas
60g melted butter
60g cherries
60g cranberries
40g sunflower seeds
40g pumpkin seeds
Mornings can sometimes be a bit of a rush. Make a batch of these no-added-sugar granola bars in advance for a healthy breakfast on the go.
Preheat the oven to 200C (fan 180C, gas mark 6). Mix the oats, cherries, cranberries and seeds together in a bowl. Pour in the melted butter and mix in thoroughly to make sure the oats are well coated.
On a separate plate, mash the bananas into a pulp with a fork, then add to the oat mixture and mix well. Spread the mixture into a 30x20cm tin and bake in the oven for 20 to 25 minutes. Once cooked, transfer to a wire rack to cool, then cut into 6 bars.
Tips
press the mixture into the baking tin well to help the binding process – but not too hard or it may affect the flavour
if your first batch is more crumbly than you'd like, try increasing the amount of mashed banana to moisten the mixture before baking
Or you could try
Banana bagel sandwich: mash a ripe banana and serve it in a toasted (preferably wholemeal) bagel. Mashing instead of slicing the banana gives the filling a creamier texture, meaning you won't need low-fat spread.
Quick porridge: making porridge is easier than you think. Combine 50g of rolled or instant oats with 200ml (or more for runny porridge) of semi-skimmed milk in a bowl, and microwave on full power for 2 minutes. Top with dried fruit or nuts.
1-minute omelette: combine 1 beaten egg, a few spinach leaves and some chopped lean roast ham in a bowl. Microwave on full power for 1 minute or until the egg is set.
Weekend treats
English breakfast muffin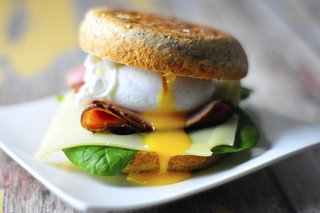 Serves: 1 adult
Preparation time: 10 minutes
Cooking time: 5 minutes
Calories per portion: 309kcal (1,293kJ)
Ingredients
1 wholemeal English muffin, cut in half
1 poached egg
1 slice lean roast ham
20g reduced-fat or "light" medium-hard cheese
2 tsp low-fat spread
20g fresh spinach leaves
Pinch of ground black pepper
Oozing poached egg on a layer of cheese and roast ham – what's not to love about this lower-calorie version of the classic English breakfast muffin?
Preheat the grill and toast the muffins on the cut sides only. Poach the egg in gently simmering water for 3 to 4 minutes until the yoke is set but still runny in the middle.
Spread the toasted muffin sides with the low-fat spread, and layer the spinach leaves, ham and cheese on 1 half. Place the poached egg on top, season with black pepper, and top with the other half of the muffin.
Tips
if you prefer, you can scramble the egg with 4 tablespoons of semi-skimmed milk – pour the mixture into a heated pan, cook and stir until the eggs are just set
Or you could try
Overnight oats: combine oats with low-fat yoghurt and let sit overnight in the fridge. Add fresh fruit, such as berries, in the morning.
Baked eggs:put an egg (with yolk unbroken) and some crème fraîche in a ramekin. Put the ramekin in a baking dish and fill the dish with hot tap water to 3/4 up the ramekin. Bake for 15 minutes or until the yolk is set to your liking.
Healthy full English breakfast:  for a healthier version of the king of the morning meal – combining eggs, bacon, mushrooms, grilled tomatoes and baked beans – go to our Meal Mixer.